Getting the word out there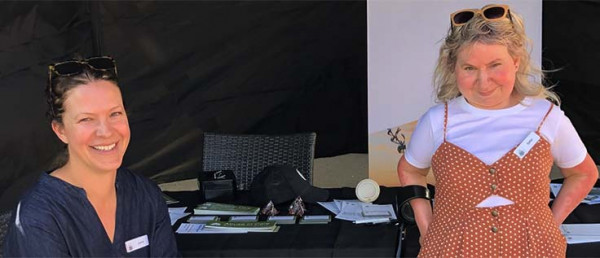 Photo: Secretariat staff supporting the Inquiry's stall at the Newtown festival on Sunday 8 March
Getting the word out about the Inquiry and supporting survivors to engage with us has been the focus of our community engagement this Summer. Yesterday our team did just that at the Newtown Festival. (Sunday 8 March).
The annual event held on the streets of Newtown is traditionally one of Wellington's largest outdoor festivals. Yesterday's event was no exception with media reports of an estimated crowd of 80,000 in attendance throughout the all-day festival.
Inquiry staff were on hand at our stall to talk to survivors, their whanau and advocates. For several people it was about getting information they could take home for family members or friends who had experienced abuse or neglect in care. For some, finding out about the wellbeing support available to survivors was really important while others were just interested to know about our mahi and lend their moral support.
Mervin Singham, Executive Director who called into the stall during the afternoon said it was great the Inquiry was present at such a high-profile event. "It is important that we are on hand in the community to talk to people directly about the role and work of the Royal Commission and outline the wrap around support we offer survivors to ensure they are safe through the process. Thanks to everyone who contributed to our presence in Newtown on Sunday."