Royal Commission public hearing – State agencies questioned on
failures to prevent and respond to abuse in care

In August the Royal Commission held an historic two-week public hearing where State agencies were asked to respond to the abuse and neglect of children, young people and vulnerable adults.
The State Institutional Response hearing questioned witnesses from 14 agencies on failures to prevent and respond to abuse in State and faith-based care.
Witnesses included State agency chief executives and other senior members of staff from:
Oranga Tamariki
Ministry of Social Development
Ministry of Health
Whaikaha – Ministry of Disabled People
Ministry of Education
Education Review Office
Teaching Council,
Police
Corrections
Te Puni Kōkiri
Ministry for Pacific Peoples
Children's Commissioner
Ombudsman
Tekawa Mataaho – Public Service Commission.
You can view video footage of testimony at the hearing and read witness statements on our website. Link to hearing evidence.
We understand that some people will have found the hearing evidence distressing. Remember, we are here for you, and you can call us on 0800 222 727 during weekday working hours, or email us on contact@abuseincare.org.nz. The Royal Commission will hold an Institutional Response hearing for faith institutions from 13 to 19 October, where we will hear from leadership of the Presbyterian Church, Anglican Church, Methodist Church, Catholic Church and Gloriavale. The hearing will be held at the Royal Commission's hearing centre located at 414 Khyber Pass Road,
Newmarket, Auckland. We'll provide further detail soon.
State agency hearings – a message from the Royal Commission Chair
Kia ora e te whānau

During the historic ten-day State agencies public hearing we heard from the legal guardians of the thousands of children, young people and vulnerable adults who were abused in State care from the 1950s.
Later this year we'll be hearing from leaders of faith institutions at a second Institutional Reponse Abuse in Care Hearing.

Without exception, all State agencies were represented by their current chief executive and other executive officers. While their testimony was frustrating for many survivors, there were repeated admissions that the State had failed them, that it did not always ensure people were safe in its care.
On the final day we heard from the Public Service Commissioner, Peter Hughes, who unreservedly apologised to abuse survivors for failures at the Ministry of Social Development under his ten-year leadership.
He said the Ministry "lost sight of the human beings at the centre of the claims".
I encourage you to listen to Mr Hughes' evidence on our website.
These leaders and their agencies are now in no doubt about their obligations under te Tiriti o Waitangi, the need for rigorous monitoring for neglect and abuse, and trusted complaints processes.
This Royal Commission and this hearing have significantly raised awareness of abuse in State care, to ensure it doesn't keep happening.
This has been reflected in the significant media coverage throughout the entire two week hearing.
In particular, the release of the Royal Commission's Care to Custody research report, which led many news bulletins that day. It is important that we reach as many as possible with this important mahi.
I want to acknowledge all of you survivors who attended the hearing either in person or by the live stream. It cannot have been easy. I acknowledge and admire your strength and courage.
Finally, I thank the members of the Commission's Survivor Advisory Group who made opening and closing addresses at the hearing. They ensured that the voices of survivors were heard loud and clear.

Ngā mihi mahana ki a koutou katoa

Coral Shaw
Chair
Research shows link between State care and custody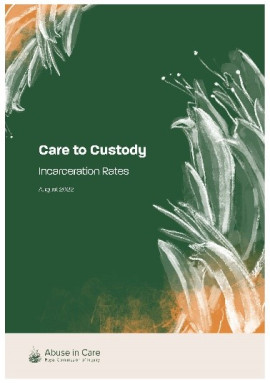 At the State Institutional Response hearing the Royal Commission released an important research report that clearly shows the links between State residential care and incarceration rates.

Care to Custody: Incarceration Rates Research Report is the first of its kind to analyse the interagency records of more than 30,000 children and young people between 1950 and 1999.
The report provides evidence of what the Inquiry has heard time and time again through its work with survivors – a direct link between State care and criminal custody.
It shows that:
one of every three children and young people placed in residential care by the State went on to serve a prison sentence later in lifeMāori children and young people were even more likely to end up in prison, with almost half (42 per cent) serving a custodial sentence as an adult


those placed in State residential care as children were up to nine times more likely to be imprisoned than those not.
The report will help inform our recommendations to the Government when the final report is presented to the Governor-General in June 2023.
You can read the research report on our website. Link to the research report.
Update on the Lake Alice and Marylands case studies

Case studies on the Lake Alice Child and Adolescent Unit and Marylands will be delivered to the Governor-General before the end of the year.
Follow us on Twitter
You can now follow the Royal Commission on Twitter. Our Twitter handle is @abuseroyal. You'll also find us on Facebook, LinkedIn and Instagram.
Media coverage of the State Institutional Response hearing
The State Institutional Response hearing was widely covered by the media, and below are links to key media stories from the second week which you can click on to view, listen or read yourself.
Monday, 22 August – 24 August Oranga Tamariki, Ministry for Children
TVNZ 6pm 1 News – Abuse in Care: Oranga Tamariki boss to 'be held to account'. Watch and read here
TVNZ 1 News – Startling link revealed between state care and prison. Watch and read here
Newshub 6pm News – One-in-three children in state care serve prison sentences as adults – Royal Commission. Watch and read here
Newshub 6pm News – Abuse in care: Survivor says Oranga Tamariki's current system still places children in unsafe environments. Watch and read here.
Stuff – Abuse in Care: Survivors experiences 'abhorrent' – Oranga Tamariki. Read here
Stuff – Children in state care more likely to end up in prison, royal commission report confirms. Read here
Stuff – Abuse in Care: Oranga Tamariki removes employee from role with children. Read here
Newsroom – Royal Commission finds high number went from welfare to prison. Read here
RNZ – Oranga Tamariki CEO avoids acknowledging abuse as "systemic problem". Read here
RNZ and Otago Daily Times – 'From taonga to chattels' – Path from state care to prison revealed in new figures. Read here
Waatea – Abuse apologies meaningless without systemic change. Read and listen here.
Thursday, 24 August – Department of Corrections, Ara Poutama Aotearoa and Office of the Children's Commissioner – Manaakatia a Tātou Tamariki
Stuff – Royal Commission: Corrections questioned over management of state care abuse survivors. Read here
Newsroom – Officials' finger pointing over abuse scandals. Read here
Friday, 25 August – Ministry for Pacific Peoples, Te Puni Kokiri, Ombudsman New Zealand – Te Tari o te Kaitiaki Mana Tangata and Public Service Commission – Tekawa Mataaho
TVNZ 6pm One News – New Zealand's top civil servant, has apologised unreservedly to abuse survivors for failings at the Social Development Ministry under his leadership. Watch here
Stuff – Public Service Commissioner Peter Hughes' apology to survivors is 'momentous'. Read here
Stuff – Abuse in Care: System change is the only way to protect Māori and Pasifika tamariki, ministries say. Read here
NZ Herald – opinion piece by Lady Tureiti Moxon: Charges should be brought against the Crown. Read here
RNZ Checkpoint – Public Service Commissioner Peter Hughes apologises at inquiry. Read and listen here
Along with the media coverage of the hearing, there were two other articles published this month that you might be interested in:
North & South – The Misery-Go-Round. Read here
Newsroom – Royal Commission at critical juncture. Read here
Panui August 2022 v2
Word Document, 166 KB