Faith-based institutions questioned on failures to prevent and respond to
abuse in care,

during Royal Commission public hearing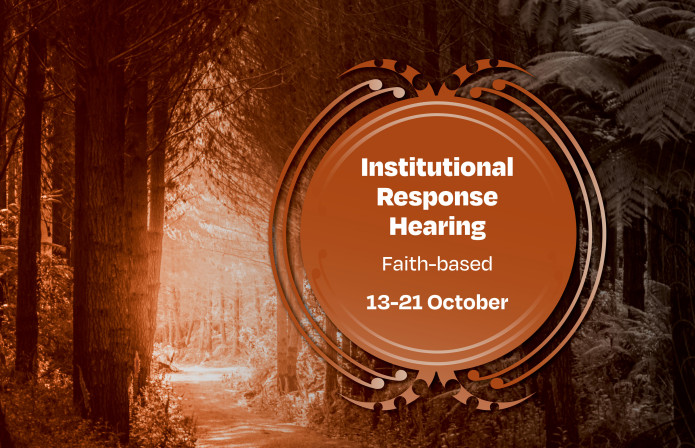 Last Friday was the sixth and final day of the Royal Commission's faith-based institutional response public hearing.

The Royal Commission questioned leaders of the following institutions (in hearing schedule order): 
Gloriavale Christian Community

St Patrick's College, Silverstream

Dioceses and congregations of the Catholic Church of Aotearoa New Zealand

Wesley College

Methodist Church of New Zealand

Presbyterian Support Central

Presbyterian Support Otago 

Presbyterian Church of Aotearoa New Zealand             

Dilworth School

Anglican Church in Aotearoa New Zealand.
The hearing ended on Friday with powerful testimony from members of the Royal Commission's Survivor Advisor Group. Member Keith Wiffin warned organisations that had housed abusers in the past that times had changed. "It will not be allowed to happen again".

Another survivor, Frances Tagaloa, said it was important an independent body, which the Royal Commission had recommended, was established to deal with redress claims for survivors of state and faith-based abuse.

"It just astounds me that a survivor is expected to go back to the very institution that perpetuated the abuse, to seek redress."

You can watch faith-based witness evidence on the Royal Commission's website
Videos of all witness evidence, and the testimony from the Royal Commission's Survivor Advisory Group members, will be available on the Royal Commission's website here soon.

A message to survivors from Royal Commission

chairperson

Coral Shaw
Kia ora koutou katoa

Friday was the last day of the Royal Commission's public hearings, but it is certainly not the end of the Inquiry as public hearings are just one way we gather information for our final report.

We are continuing to assess survivor and witness accounts and you can contact us at any time to provide your input.

We are also still listening to communities in hui, wānanga, fono and community engagement sessions throughout the country.

All of these will inform the Royal Commission's final report and recommendations, due to the Governor General in June next year.
Public hearings have raised awareness
Hearings and the publicity they generate have raised awareness of the Royal Commission's Inquiry – to survivors, their whānau and the public of Aotearoa New Zealand.
 
Over the past four years we have held 133 hearing days, mostly listening to the distressing testimony of our brave survivors.
 
The last two hearings have focussed on state and faith agencies and institutions. We asked their senior religious leaders to respond to what survivors have told us about their allegations of abuse and neglect of children, young people and vulnerable adults over many decades. 
 
We focused on their involvement and accountability for abuse and neglect in faith-based schools.
"We failed in our sacred duty"
Religious leaders and faith school governors have apologised for the harm and trauma caused to survivors who were abused while in their care. "We failed in our sacred duty", said the Methodist Church.
 
There has been a great deal of public interest in this hearing. Significant media coverage reflects the level of interest and concern shown by the public – importantly the hearing has been viewed by more people than ever before.
 
For the faith-based hearing there were over 26,000 individual views by livestream. We don't know who these viewers are, but we can guess that they are survivors, their families and friends who are scattered throughout our land, or overseas.
 
We know that many survivors have been following these public hearings and we hope that watching has given you reassurance you are believed, you are not alone, and that everything possible is being done today to ensure the impact of your abuse in care is not passed on to future generations.
Ngā mihi mahana ki a koutou katoa  
 
Coral 
Media coverage
Gloriavale Christian Community 
St Patrick's College and the Catholic Church of Aotearoa New Zealand 
TVNZ One News

–

C

atholic Church leaders admit dealings of abuse inadequate.

Read and watch here




TV3 Newshub

–

Abuse in Care Inquiry: Catholic Church Cardinal reiterates apology for clergy abuse.

Read and watch here




Radio NZ

–

Former Catholic Bishop of Auckland questioned over recommending priest facing abuse allegations.

Read here




Stuff

–

Bishop admits to recommending priest who groomed teenager for teaching job.

Read here




Stuff, DomPost (front page)

–

St Patrick's College Silverstream "abuser" portraits stay on walls of school's "hall of fame".

Read here




Pacific Media Network

–

Fakaleitī wants Catholic Church to pay for harm caused by conversion practices and abuse.

Read here




RNZ Morning Report

–

Former Catholic Bishop under spotlight at inquiry.

Listen here


RNZ -

Mass walkout at Abuse in Care Inquiry.

Read and listen here
Stuff –

The Catholic Church needs deep renewal if its abuse apologies are to mean anything.

Read here
The Methodist Church of New Zealand and Wesley College 
Presbyterian Support Services 
Otago Daily Times – Inquiry told of Dunedin paedophile ring. Read here
Stuff – Abuse in care survivor feels "powerfully acknowledged" as Presbyterians apologise. Read here
Otago Daily Times – Inquiry launched into paedophile ring claims. Read here
Anglican education – Dilworth School 
Radio NZ – Royal Commission of Inquiry into Abuse in Care: Public hearings finish with warning to institutions. Read here
Commissioner Julia
Steenson
Commissioner Julia Steenson has resigned from her role to pursue other leadership opportunities. 

Ms Steenson said it has been a privilege to be a Commissioner since June 2020. 

"It was an honour to be appointed to the role of Commissioner for the Abuse in Care Royal Commission of Inquiry.  

"Listening to survivors of abuse share their experiences of harm and trauma has been both difficult but privileged mahi.  To lead and participate in engagements, most recently across diverse communities including Māori - as the most disproportionately affected cohort - has been a humbling experience," said Ms Steenson. 

"I am proud of all that I have contributed to while I have been with the Commission. I will watch the Inquiry's work with interest over the next eight months and I wish the very best outcomes for survivors." 

During Commissioner Steenson's time at the Commission, she co-chaired the Māori hearing; undertook around 100 survivor sessions kanohi ki te kanohi which enabled survivors to personally share their experiences; engaged with communities across the motu by listening to the hurt and mamae they suffered; and engaged on solutions that the Commission should recommend for the future.  

Commissioners have jointly thanked and acknowledged Commissioner Steenson for her commitment, passion and mahi. Commissioners also acknowledge that the Inquiry is in a strong position to complete the final report. 

Commissioner Anaru Erueti, who co-chaired the Māori hearing, said "We know that Māori have been disproportionately impacted by abuse in care. The Commission, through its private sessions, hearings and engagements around the motu, is committed to understanding the specific burden for Māori who have been in care. This includes the impacts on their whānau through the generations for our report findings and recommendations and the need to ensure survivors have access to proper holistic redress or puretumu torowhanui.  

"Julia has made a significant contribution to the Commission and Aotearoa in this regard, and we thank her for her valuable mahi," he said. 

"We want to assure all survivors that while we will miss Julia, her contribution and whakaaro will be evident in the case studies, and the final report and recommendations."    

Chair Coral Shaw said "The four commissioners, while saddened by the resignation of Commissioner Steenson, we are confident that we can complete the Inquiry's investigation and evidence analysis. There is still a lot of work to complete in drafting the case studies reports and refining the recommendations, and the Commission is in a good position to complete this by 30 June 2023."
How to get in touch with us
Call us in New Zealand on 0800 222 727 between 8.30am and 4.30pm Monday to Friday.
Call us from Australia on free phone 1800 875 745.
Email us at contact@abuseincare.org.nz.
Write to us at PO Box 10071, Wellington 6140.
Visit our website www.abuseincare.org.nz.