A moment in history
The closing of the Royal Commission's last public hearing was "a moment in history that will never be forgotten", with tears, laughter, applause and time to remember the survivors who are no longer with us.

Just as the faith-based institutional response hearing began with the voices of survivors of abuse in faith-based care, it was appropriate for survivors to have the final words at the closing of the hearing and of the hearings phase of the Inquiry.

Survivor Advisory Group of Experts (SAGE) members Tu Chapman, Jim Goodwin, Gary Williams, Frances Tagaloa, Keith Wiffin and Rupene Amato (pictured below) each spoke as part of the closing.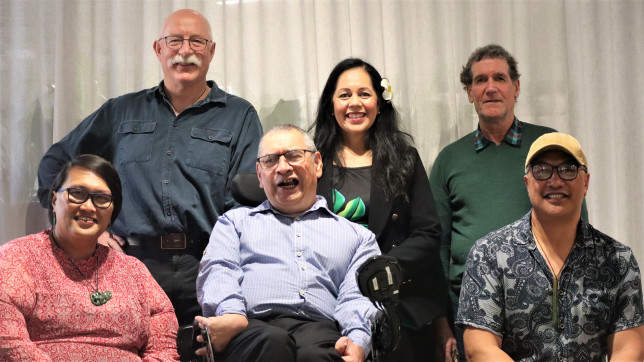 They acknowledged all of the survivors who have shared their experience of abuse in care at the Royal Commission's public hearings and in private sessions, and the sacrifice each survivor makes in coming forward to stop abuse happening to other tamariki and adults at risk. They also acknowledged the survivors of abuse in care who have passed away and will not have the chance to receive justice. Reflecting on what they had heard from institutions during the hearings, Keith Wiffin noted that, "The landscape has changed…this Royal Commission may disappear but the impact won't and the scrutiny will continue, as will the accountability until you get this right."

Te Ara Takatū, an advisory group of Māori survivors and survivor advocates, also spoke at the closing. They acknowledged Māori survivors of abuse in care and the tamariki who are in care today. They reminded us "our mokopuna are our tomorrow", that it is the system which is broken, not the people, and that Māori are the best experts in how to look after tamariki.
Te Ara Takatū members Denise Messiter ONMZ and Louis Coster (back), Hera Clarke and Paora Crawford Moyle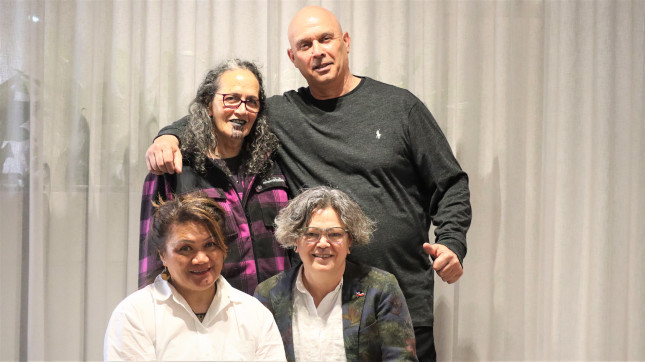 Te Ara Takatū members Denise Messiter ONMZ and Louis Coster (back), Hera Clarke and Paora Crawford Moyle.
While we have held the final public hearing, there has been no let-up in the Commission's work.

We are continuing to gather information to inform our final report and recommendations – including assessing survivor and witness accounts, and listening to communities through hui, wānanga, fono and community engagement sessions throughout the country.

At the same time, we have begun the process of drafting our final report, which will be in three parts. Part 1 will outline the context of our Inquiry and paint a picture of Aotearoa New Zealand in the period 1950 to 1999. Parts 2 and 3 will contain the Royal Commission's detailed findings and recommendations. We will be testing our recommendations with survivors and others through our reference groups, wānanga and other engagement opportunities. We will keep you updated on this process and on ways you can be involved.

Once the report has been completed, it will be printed before being submitted to the Governor-General.

Two case studies, on the Lake Alice Child and Adolescent Unit and the St John Order of God at Marylands School, will be submitted to the Governor-General ahead of the final report.

An important part of the Royal Commission's work has been to shine a light on the experience of survivors so that New Zealanders know about the abuse you and many others experienced in our State and faith-based institutions, and why changes are needed to ensure abuse in care does not continue. Over the coming months we will focus on sharing the stories of survivors and what we have heard during the Inquiry.

We will be reaching out to some of you to talk about publishing your story. If you choose to allow us to do this, we will make sure you have wellbeing support throughout that process.
New text messaging service
You can now communicate with the Royal Commission via freetext to the number 8185.

The service is part of an ongoing effort to offer survivors multiple ways to talk with our Contact Centre. It is also in response to our Deaf communities, who have told us that a text messaging service would make it easier for them to engage with us.

Along with texting us on 8185, you can continue to contact the Royal Commission by phone on 0800 222 727 or 1800 875 745 if calling from Australia, weekdays 8:30am to 4:30pm (NZT), and by emailing us at contact@abuseincare.org.nz
Tell us how care and support can be improved, so that everyone can thrive
People who are disabled, Deaf, neurodiverse, whānau hauā, tāngata Turi, tāngata whaiora, or experience mental distress can now share their thoughts and ideas with us online until 8 December at www.korero.abuseincare.org.nz.

We are asking people to tell us how care and support can be improved so that:
culture and identity are respected

there is fair treatment for all

family and whānau are involved

mana and dignity are upheld

accessing services and support is easier

a quality education is available for all.
We know that engaging with us online won't suit everyone, but we also understand that some survivors, whānau and other community members face barriers to engaging with us in person.

The focus of this engagement is to learn from different communities about solutions for the future. What we learn will inform our recommendations to the Government next year.

Share your ideas now

You can also now text us with your thoughts and ideas on 8185, at no cost to you.
Wānanga with whānau hauā, tāngata turi and tāngata kapo, Tamaki Makaurau
In late September, the Royal Commission met with whānau hauā, tāngata Turi and tāngata kapo in Tamaki Makaurau.

Papatuanuku Marae hosted the wānanga, it had been the dream of kuia Mere Knight to be an inclusive marae, able to manaaki the diversity of tangata whaikaha katoa, and now with this hui her wawata was finally being fulfilled.

Commissioner Paul Gibson said that he and fellow commissioner Andrew Erueti appreciated the opportunity to better understand the experience of Deaf, Blind and disabled Māori, and their whānau.

"Whānau hauā and whaikaha told us of current challenges of the disability support system denying them the support they need from whānau, neglecting their needs as tangata whaikaha and tangata Turi Māori. Whānau told us of their trauma at not being able to care for their whānau members who were taken from them to go into care.
"We heard there had traditionally been no kupu for 'disability' and how colonising medical concepts separated whānau hauā, tāngata Turi and tāngata kapo from their whānau and iwi, and that we need to put a stop to that separation."

Feedback from the wānanga will be collated and shared with participants, and will inform the Commission's final report.
Online hui for Rainbow and takatāpui communities
On 11 October the Commission hosted an online hui focused on the unique needs and experiences of people from Rainbow and takatāpui communities. Community members and people from organisations that support Rainbow and takatāpui communities participated in the hui, sharing their insights with Commission Chair Coral Shaw and Commissioners Anaru Erueti and Paul Gibson. It was a great opportunity to hear about what needs to change for children, young people and adults in care from these communities.

Feedback from the hui and a follow-up survey for participants will inform the Commission's final report to the Government in June next year. There was a clear call from about the need for greater engagement with Rainbow and takatāpui communities, so further engagement is being planned.
International experts in disability and mental health
Commissioners and Royal Commission kaimahi have met online with international experts on disability and mental health, in a series of wānanga on international developments that will inform the Commission's recommendations.

We heard from Dr Michael Kendrick, Cathy Costanzo, Ruby Moore, Martin Rogan and Eddie Bartnik, who shared their understanding of current disability environments and contemporary practice, along with transformational change, its progress and challenges. In the final wānanga, we met with Dr Helen Milroy, Australia's first Indigenous doctor and a highly regarded expert in child and adolescent psychiatry, along with Dr Tristram Ingham, Dr Paula King, and Peter Allan.

These wānanga were an important chance for the Commission to hear about what is working well for people who are Deaf, disabled and experiencing mental distress around the world.

Some of the key things we heard from our panel of experts were:
Disabled people have historically and currently been deeply misunderstood with their skills, potential and shared humanity systematically denied. Care systems have tended to assign people to services and supports based on these deficit assumptions, and as if everyone requires the same solution.

Abuse can happen in any care settings where these assumptions are dominant.

Focus on the question of 'what would a good life look like, for this person, their whānau and support network?'. In other words, we need to, design services on a one-fits-one basis, not one-size-fits-all.

Focus on transforming the lives of the oppressed person, their whānau and support network. Look to strategies that shift the decision making and resources into the hands of the person and whānau.

You cannot seek to apply safeguards to systems that are themselves dysfunctional. Dysfunction must be addressed first before monitoring and safeguarding will be effective in reducing abuse and neglect.

The greatest safeguarding approaches are when disabled people have people around them who are there because they care deeply for the person and are not be paid to do so.

Keeping people out of the formal system is going to be the greatest safeguard and build a good life for people. Focus on keeping people in the ordinary places with ordinary people, rather than on building formal support systems which remove people from places and relationships. This is about disrupting the system.

People will always be vulnerable when freely given relationships are not allowed in. Mobilise natural supports, where people are allies, not providers.

You will not get to better if you do not have a vision of what better would look like.

What is better is sustaining families and keeping people supported in their communities, instead of spending billions of dollars for people to go into environments which separates them from all of the natural and informal safeguards.

Personal budgets, self-direction and supported decision-making shift power and resource back to the people and their whānau.
Survivors invited to share their thoughts on renaming of Marylands locations
Christchurch City Council is proposing to change the names of three streets and one reserve in the suburb of Middleton due to their association with Marylands School. The Council is inviting survivors to contact them directly to share their thoughts on the proposed changes and is keen to ensure that survivors would be among the first to know of their planned approach.
The name changes are proposed to be done in two stages with Marylands Place and Marylands Reserve the first to change. The Council intends to request the gifting of new names from mana whenua and for this change to happen by June 2023. Nazareth Avenue and Magdala Place will also be considered for name changes later next year.
The Council is taking this action following the recommendation in our report, He Purapura Ora, he Māra Tipu – From Redress to Puretumu Torowhānui, to remove any memorials to perpetrators of abuse.
Survivors have until Friday 25 November 2022 to send their feedback on the proposed changes to Christchurch City Council.
If you have any questions, or would like to provide feedback, please contact Tessa Zant, Manager Engagement, Christchurch City Council on (03) 941 8935 or Tessa.Zant@ccc.govt.nz.
Survivor accounts
We are still hearing from survivors about the experiences that they wish to share. If you have not completed a written or verbal account and we have not been in contact with you for a while, please do reach out to us. This is especially important if you think that your contact details may have changed since you registered with us – call 0800 222 727, or 1800 875 745 if you are calling from Australia, or email us at contact@abuseincare.org.nz. We want to ensure that everyone who has registered has the opportunity to share their experience with us.
How to get in touch with us
Call us in New Zealand on 0800 222 727 between 8.30am and 4.30pm Monday to Friday.

Call us from Australia on free phone 1800 875 745.
Email us at

contact@abuseincare.org.nz

.

Write to us at PO Box 10071

,

Wellington 6140.

Visit our website

www.abuseincare.org.nz

.
Help and support services
Panui November 7
Word Document, 901 KB