Beautiful Children formally presented to Governor-General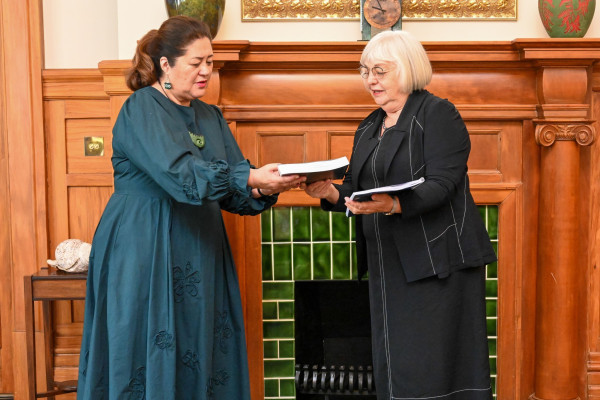 Last week, Commissioners formally presented Beautiful Children, Te Uiui o te Manga Tamariki me Te Rangatahi ki Lake Alice – Inquiry into the Lake
Alice Child and Adolescent Unit to Her Excellency the Rt Hon Dame Cindy Kiro pictured here with Commission Chair Coral Shaw.

Her Excellency said there were three things that particularly stirred her attention in the report:
that children who were taken from whānau were automatically considered to be 'bad' and that it was therefore okay to punish them

that the power imbalance in institutions like Lake Alice meant they could be punished without any consequences for the abusers

and, that as she reflected on this, she was met with the fear that it could still happen today.

The report includes the experiences of five Lake Alice survivors, told in their own words:
Bryon Nicol
Mr DT
Hake Halo
Rangi Wickliffe
Sharyn Collis and Amy Bethune

A simplified version of the executive summary of Beautiful Children is available on our website in te reo Māori and five Pacific languages, as well as a range of alternate formats:

Executive Summary and Findings - Te Reo Māori (PDF)
Executive Summary - Cook Islands Māori (PDF)
Executive Summary - Samoan (PDF)
Executive Summary - Niuean (PDF)
Executive Summary - Tongan (PDF)
Executive Summary - Tokelauan (PDF)
Executive Summary - Electronic Braille (.brf)
Easy Read - Lake Alice Inquiry (PDF)
Large Print - Executive Summary (PDF)
Simplified English - Executive Summary (PDF)
New Zealand Sign Language

Supporting your wellbeing
We know that by sharing your experiences with us, you and your whānau may experience some distress or resurfacing of memories of these experiences.

You can request wellbeing support from the Royal Commission at any stage during your engagement with us.

We can provide packages of care – short-term supports (approximately 4-6 sessions) such as counselling and mirimiri. The counselling is not designed to work through trauma or abuse, but instead to be a safe, confidential space to talk through your feelings about engaging with the Royal Commission, help you to process any distress you may be experiencing and provide you with evidence-based strategies to manage your wellbeing through this time.

While the Royal Commission cannot provide long-term support, we can refer you to other providers, such as ACC or community providers. 

We encourage all survivors to talk with our Contact and Support Team about how we can best meet your needs.

Commissioners pay tribute at site of unmarked graves
Last month Commission Chair Coral Shaw and Commissioner Paul Gibson visited the site of the former Tokanui Hospital and nearby urupā. They were joined by representatives from local iwi Ngāti Maniapoto and two former staff members of the hospital.

They went to acknowledge and pay respect to the people who were institutionalised there, particularly those who died at the hospital and were buried in unmarked graves nearby.

Coral noted that the idyllic landscape was in stark contrast to what we know happened there. "We've heard harrowing stories from people about this place through our public hearings and survivor accounts.

"We've come here today to actually feel the place, to experience it and get a visual image of what it was really like."

Established in 1912, Tokanui Hospital was one of several psychiatric and psychopaedic hospitals in New Zealand built during the first half of the twentieth century. At its peak it housed more than 1000 patients, before closing in 1998.

Some people who went to Tokanui never left care once they entered it, remaining institutionalised for the rest of their lives. Over 500 people died in care at Tokanui and were buried in unmarked graves in an area of farmland that was only fenced off after the graves were discovered in 1991. In 2016 a memorial was unveiled to commemorate the patients buried there.

Paul said, "So many horrific things happened at Tokanui that we heard about through our hearing, to people with psychiatric illness, returned servicemen and people with learning disabilities and intellectual disabilities.

"We come to acknowledge them and to learn the lessons of their lives… in a bid to make sure that what happened to them and throughout Aotearoa in psychiatric and psychopaedic institutions, in children's homes, faith-based institutions and residential schools will never happen again.

"To actually to come and walk in the whenua, to see the place where people spent their whole lives and now where they rest, is deeply moving. To come with someone who knew these people, to see her pain, that's something you can't get at a public hearing."

"I want to mihi to those survivors and their families who gave evidence about this place, you provided the foundations for our learning about this place," said Coral. "Without you, we cannot tell the story, we cannot explain what went wrong or even what went right. Survivors, we owe everything to you and your bravery in coming forward."
Contacting the Royal Commission over the holiday period
Royal Commission offices are closed from midday on 23 December 2022, re-opening at 8.30am Monday 9 January 2023.

For general enquiries to the Royal Commission, please leave a message on 0800 222 727 or email us at contact@abuseincare.org.nz and we will contact you in the New Year.

If you need urgent crisis support, check the Mental Health Foundation website for contact details.

We wish you a safe holiday season.
Help and support services