St John of God survivors gather in Christchurch

Survivors of Marylands School and Hebron Trust gathered with Commissioners, mana whenua, Christchurch Mayor Phil Mauger and other guests in Christchurch last Wednesday for the release of the Royal Commission's report Stolen Lives, Marked Souls.


Held at the Christchurch City Council civic offices – Te Hononga, the event was an opportunity to honour Marylands School and Hebron Trust survivors. Many told us they felt heard for the first time in their lives.

Inquiry Chair Coral Shaw said survivors have suffered for years and been robbed of their potential because those who were meant to care for them shamefully enabled the abuse and neglect, ignored it or covered it up.

Christchurch Mayor Phil Mauger thanked the survivors who had bravely shared their stories. He also told them "I speak on behalf of my fellow elected members when I say that we are here today in a show of support, we're listening to you and acknowledging the experience of survivors".

The release of Stolen Lives, Marked Souls was reported by major news outlets in Aotearoa New Zealand as well as overseas media. Here are some of the articles:

The Press/Stuff:

Hell on earth: State and church enabled sex abuse, damning report finds

The Press:

'A voice for all survivors': Victims of child sex abuse at hands of Catholic brothers say they have finally been heard

TVNZ 1News:

'Hell on earth': State, church ignored child sex abuse – report

RNZ:

Royal Commission – Marylands School abuse 'extreme', children's cries for help ignored

RNZ Morning Report with Ingrid Hipkiss:

Report describes school community centre as 'hell on earth' – interview with Sonja Cooper

RNZ Checkpoint:

'Hell on earth' report into Chch school from 1955 - 1984

– interviews with Ken Clearwater and survivors Hanz Freller and Eddie Marriott

531PI Breakfast:

Frances Tagaloa interview re survivor of Catholic priest abuse - Stolen Lives, Marked Souls

Australian Broadcasting Corporation (ABC):

NZ abuse royal commission findings describe hell on earth

Sydney Morning Herald:

The letter that helped seal the fate of dozens of children

We know that the release of the St John of God report and its findings may be distressing for you. Remember, we are here for you. If you need support, contact us during weekday hours at 0800 222 727, free text 8155 or email us at

contact@abuseincare.org.nz.

Rangatahi share their hopes for the future of care

Te Rōpu Kaitiaki mō ngā teina e haere ake nei – the rangatahi reference group – formally presented their hopes for the future of care with the Royal Commission at a hui in June.

Over three wānanga and several informal meetings, members of Te Rōpu prepared documents to submit to the Royal Commission. These included a position statement titled Korowai Aroha, an open letter from the group acknowledging who they are, the journey they have been on, and a dedication to survivors past and present.

Te Rōpu Kaitiaki mō ngā teina e haere ake nei also shared 25 key messages that were important to the group for the Royal Commission to consider.

Chair Coral Shaw and Commissioner Paul Gibson attended the hui. Coral said these documents are a taonga from the group that will inform the Commission's final report.

"Hearing the voices of rangatahi will help us to make sure that the recommendations we make in our final report reflect what's important to young people today and will add to everything we have heard from people who were in care between 1950 and 1999.

"We have been privileged to work with Te Rōpu Kaitiaki mō ngā teina e haere ake nei over the past few months, in partnership with VOYCE Whakarongo Mai. We thank each of them for their courage in sharing their accounts and collective wisdom with us," said Coral.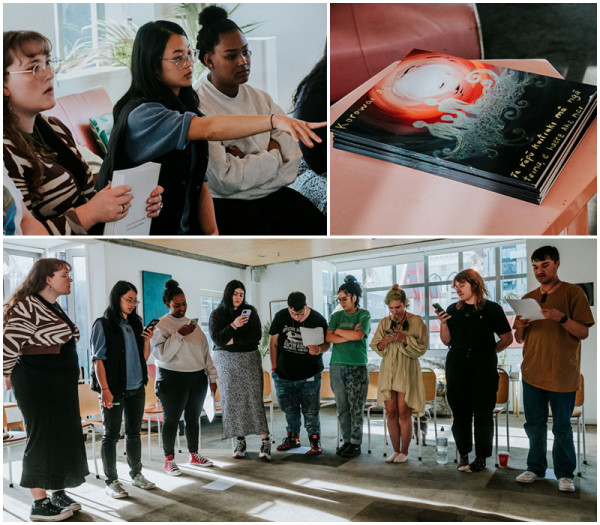 New Spinoff series focuses on institutions


Following its series of articles on the experiences of survivors Mike Ledingham, Joan Bellingham, Lusi Faiva and Tupua Urlich, The Spinoff is producing a new four-part series about institutions where tamariki, rangatahi and adults experienced abuse and neglect in care.

The first article in the series examines the Berhampore Children's Home in Wellington through the eyes of three siblings who were taken to the home by their mother in 1959. The second focuses on the Kimberley Centre near Levin and the experiences of Mr EI and Margaret Priest's sister Irene.

You can read the articles on The Spinoff website:

thespinoff.co.nz/the-quarter-million

Future articles will focus on Whakapakari Camp and Marylands School.

On behalf of the Crown Response Unit
Survivors appointed to independent Board

The Minister for the Public Service Andrew Little has appointed two survivors as Co-chairs of the independent Board of the new Survivor Experiences Service.

Co-chairs Eugene Ryder and Moeapulu Frances Tagaloa are joined by Di Grennell and Jonathan Mosen, who have been appointed as the first two Board members.

Eugene is a Māori survivor of childhood abuse in State care and a former gang member. He has a social work degree and has provided advice to a range of government agencies for several years. He has also worked with the Royal Commission to support our engagement with gang communities.

Frances is a member of the Royal Commission's Survivor Advisory Group of Experts (SAGE) and has 20 years of experience seeking redress from the Catholic Church following abuse from a Catholic Marist Brother. Her professional experience includes being the Chief Operations Officer and Chief of Staff in a global Christian non-profit, Campus Crusade for Christ.

Jonathan is a survivor and advocate for disabled people and issues, who was born blind and hearing impaired. He attended Homai School for the Blind and mainstream intermediate and high schools. He is an experienced leader, manager, negotiator, and advocate for disabled people.

Di holds positions on several advisory groups, government and community boards. Under her leadership, Amokura Family Violence Prevention was awarded the Annual Human Rights Prize from the Leitner Centre for International Law and Justice. She has been a member of policy advisory groups, including the Māori Taskforce on Whānau Violence and the Māori Reference Group to the Ministry of Social Development. She authored 'Aroha in Action', a child abuse prevention resource, and worked for several years with rangatahi and men who were on post-prison release on the Te Wero programme.

The Survivor Experiences Service is hosted by Te Tari Taiwhenua Department of Internal Affairs and will be guided by the Board to provide a place for survivors of abuse in care, and their whānau, to share their experiences.

The Crown Response Unit coordinates the Government's response to the Abuse in Care Royal Commission of Inquiry. Its work programme is focused on implementing recommendations from the Commission's 2021 redress report, for example, the development of a survivor-led independent redress system for historic abuse in care. To stay informed about its work programme you can email: contact@abuseinquiryresponse.govt.nz

with 'panui' in the subject line and you will be added to its subscriber database.
Call us in New Zealand on 0800 222 727 between 8.30am and 4.30pm Monday to Friday, or text 8185.
Call us from Australia on free phone 1800 875 745.
Write to us at PO Box 10071
,
Wellington 6140.
Help and support services